After a recent non-partisan study found that Google is seriously biased to the far left in its search results, the Internet giant lamely clapped back and claimed they aren't biased at all — despite all the proof otherwise.
Google basically just said, "Nu uh, you big poopy head!"
The study published in Feb. by a research group called AllSides found that Google News has "strong political bias" to the far left.
"Imbalanced or heavily biased news search results can have a negative impact on our democracy and elections," Julie Mastrine, director of marketing and media bias ratings at AllSides, told The Daily Signal early this month. "When people cannot access the full range of views on political and societal issues, they are subject to partisan manipulation and cannot truly decide for themselves."
"The AllSides balanced newsfeed solves the problem of biased online news aggregation by curating articles from the left, center, and right, so people can get diverse perspectives and think for themselves," the group added.
But Google struck back and in a bald-faced lie, and contrary to all evidence, claimed they have no political bias at all.
"Our systems do not take political ideology into account, and we go to extraordinary lengths to build our products for everyone," the search engine giant exclaimed. "This study's methodology is deeply flawed. It cherry-picked a few topics and ran for a very brief period of time, presenting a misleading picture of Google News."
But AllSides noted that even if Google isn't purposefully weighting results to the left, they clearly don't care that their product is biased.
"Even if not intentional, Google appears to have decided that the problem of political bias is not a sufficiently important problem to address, or has so far been unable to address it effectively," said John Gable, CEO of AllSides. "Regardless of the cause or intent, if Google News intends to support a free and independent democratic society and provide its readers with the ability to consume a variety of perspectives and decide for themselves the best course, it is failing in that objective."
And it isn't just a little bias. AllSides said Google News promotes left-wing websites over right-wing websites at an extremely high rate of 20:1.
AllSides adds that most of Google's top sources are left-leaners such as CNN, the BBC, and the New York Times.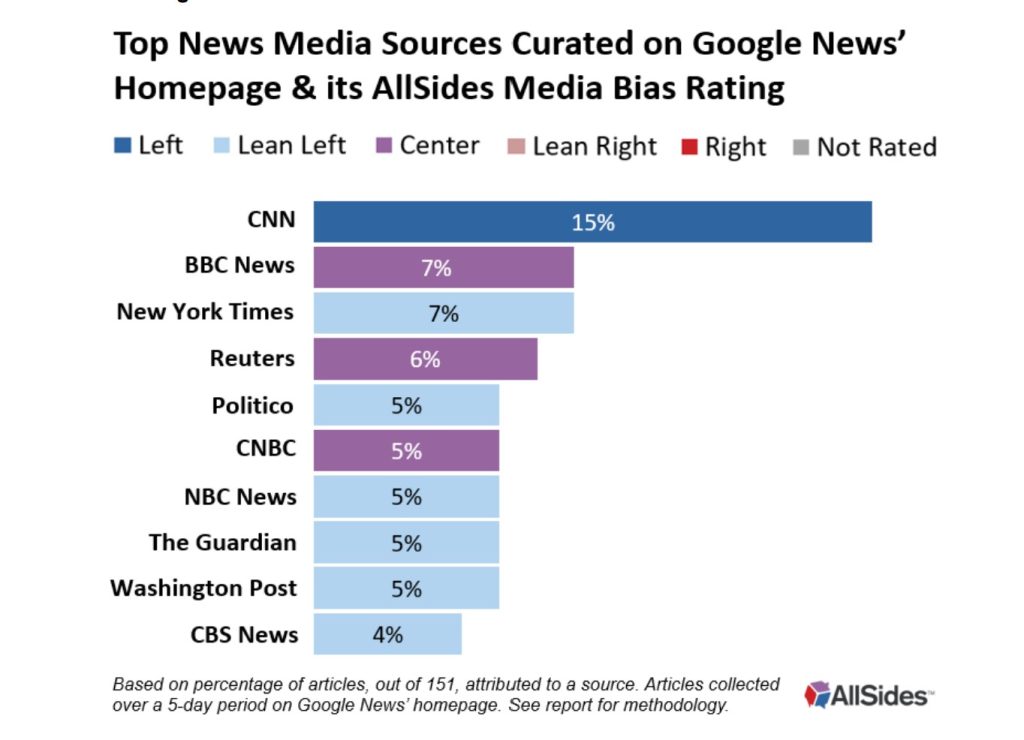 No surprises there.
Follow Warner Todd Huston on Facebook at: facebook.com/Warner.Todd.Huston, or Truth Social @WarnerToddHuston