Transgender nutcases are getting more and more dangerous. Indeed, FOUR of them have turned into mass murderers over the last five years.
As Breitbart News reported:
In November of 2018, Snochia Moseley, a man who identified as a woman, wounded three and killed three after opening fire at his place of employment in Aberdeen, Maryland.

In May of 2019, a Colorado woman who identified as male shot up a school, killing one and wounding eight.

In November of 2022, a Colorado man who shot up a gay nightclub, killing five and wounding 18, was identified as transsexual.

On Monday, 28-year-old Audrey Elizabeth Hale, a woman who identified as a man, entered a Nashville Christian elementary school with a firearm. She murdered three adult staffers and three nine-year-old children.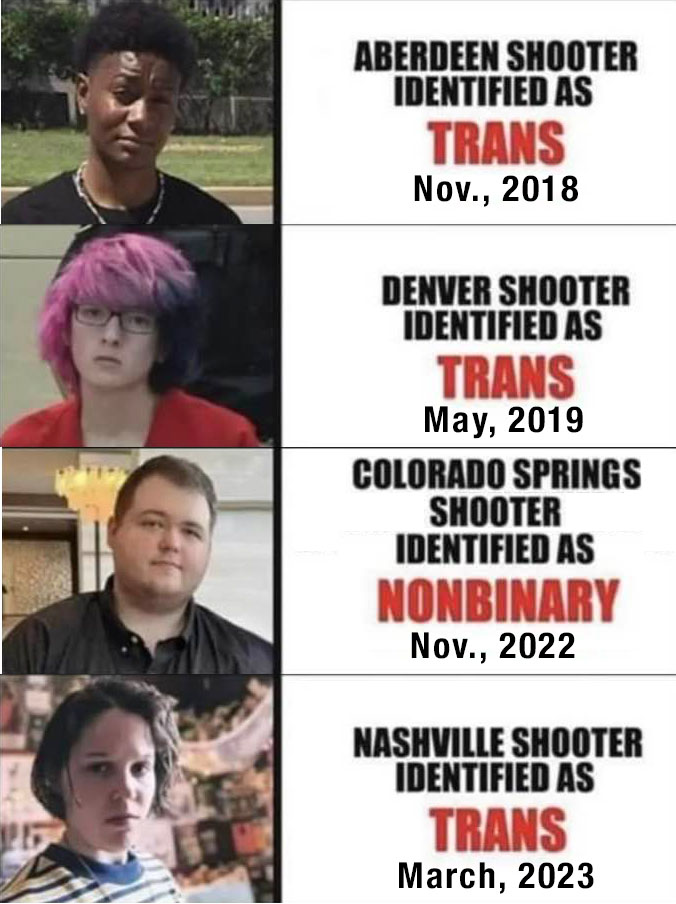 And the latest attack on Monday occurred just as radical Transgender activists were calling for a day of violence against normal people.
Also per Breitbart:
The mass shooting by Audrey Hale, the 28-year-old transsexual who murdered three kids and three staffers at a Nashville Christian school Monday, was preceded by left-wing radicals calling for a "Trans Day of Vengeance."

In February, a group of transsexuals announced that "A Day of Vengeance" will be held in Washington, D.C., between March 31 and April 2. Their specific goal is to "[s]top trans genocide" (which is a hoax), specifically by raising money for firearms.
And all this comes as Trans radicals havve been running around claiming there is a "transgender holocaust" with a huge upswing in violence and even murders being perpetrated against transgender people.
But, according to the FBI, that is a lie. The FBI's statistics (the last being from 2021) shows no real uptick at all in so-called "hate crimes" against trans people.
So, yeah, once again, the left is basing all their hateful, anti-American actions on pure lies.
Follow Warner Todd Huston on Facebook at: facebook.com/Warner.Todd.Huston, or Truth Social @WarnerToddHuston